When the weather begins to cool and the days get shorter, most people would take that as a sign to slow down their mountain biking. But with a reliable and durable mountain bike headlight, you can stay out on the trail for longer.
Whether you're a seasoned veteran or a relative newcomer to night riding, these five tips will make your nocturnal mountain bike adventures faster, more fun, and safer.
WHAT ATTRACTS RIDERS TO NIGHT RIDING?
Night riding is popular among the New Zealand mountain biking community because it allows riders to get out on the trail during winter when there is a lack of daytime hours. Night riding is considered a seasonal sport here, with most of the action taking place between April and September.
In addition to this, night riding can throw a whole new spin on your local trails, therefore providing an extra challenge for those adrenaline seekers. Trails you know like the back of your hand in the day, completely transform when night falls. Because riders can only see as far as their rechargeable bicycle light illuminates, they have to remain vigilant in order to stay safe.
In other parts of the world, such as Southern California or Texas, it is often too hot to ride during the day. So night riding offers some respite from the heat, allowing riders to get out on the trails when it's cooler.
TIP ONE: GET A MOUNTAIN BIKE HEADLIGHT
Having a robust and simple rechargeable bicycle light will make your night riding adventures a lot more enjoyable. As a starting point, you want to be looking for lights that are a minimum of 1200 lumens. Lumens refer to the amount of visible light (to the human eye) from the light source.
If you're looking for an entry-level light, look no further than our Gloworm Alpha Plus, spitting out 1200 lumens, it is bright enough to illuminate your local trails and provides enough runtime for up to four hours of night riding. Weighing in at only 69 grams (light only) it is an affordable and high-quality option to get you started.
If you're an experienced night rider, or you're looking to upgrade, then our Generation Two XS range will have you out on the trails every night. Starting from 2800 lumens, these lights are lightweight and can be paired with our Gloworm App for ease of use.
Here at Gloworm we recommend a two mountain bike headlight setup because it gives you the flexibility of being well-lit in front of you, while having peace of mind that you'll be able to see around the next corner.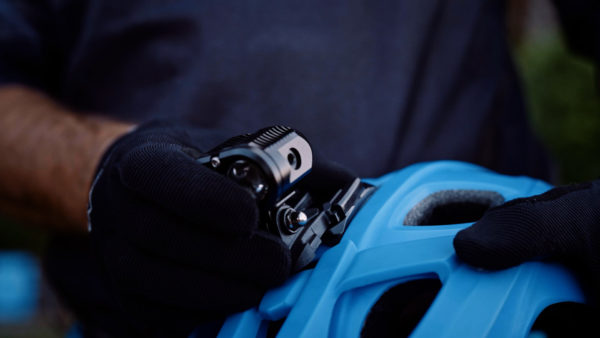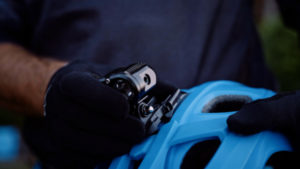 TIP TWO: FIND THE RIGHT MOUNTING OPTION FOR YOU
Some night riders prefer to have their rechargeable bicycle light on their helmet, handlebars or both. If you're just starting out, it is important that you find what works for you so that you can feel comfortable when you're out on the trails. If you're not feeling confident in your setup, then this increases the risk of you hesitating and injuring yourself and others.
All Gloworm lights are incredibly lightweight so that they can be mounted on both handlebars and helmets. In addition, your Gloworm is also compatible with a head strap for those off-bike adventures.
A common question we get asked is if our mounts fit all bike setups and the answer is yes! It was important for us to design a mountain bike headlight to suit bikes across the board. In addition, our mounts have also been designed to fit GoPro mounts so that you can capture epic footage of your night riding adventures.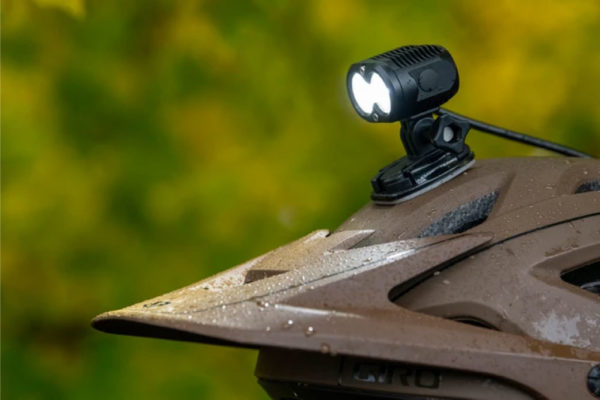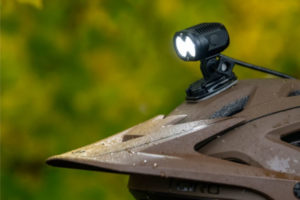 TIP THREE: CHOOSE A ROUTE YOU'RE FAMILIAR WITH
If you've never been on a night ride before, start with a trail that you're familiar with. As mentioned, the same trail can offer a completely different experience in the dark. Even if you know the route well, you'll be surprised at how foreign it looks and feels at night.
When night riding, it is important to take it easy and not get too confident too quickly. There are apps out there, such as Trailforks that allow you to track your progress. Another alternative is the Backcountry navigator which has topographical maps to follow.
Once your confidence has improved and you've got used to how the trails look, you can challenge yourself with more technical trails, but build up gradually.
When you become a seasoned night rider, the only limit to how far you can ride and the types of trails you can tackle is your light's power and battery life (unless you buy a Gloworm light).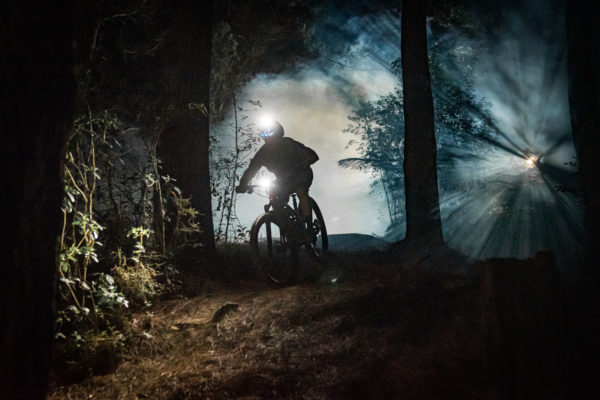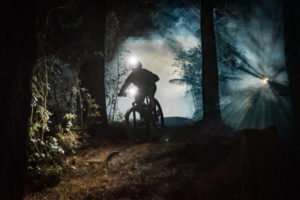 TIP FOUR: MAKE FRIENDS AND JOIN CLUBS
Riding on your own can be great fun, but night rides become even better once you head out with other people.
After-work rides with mates are a great way to keep the winter blues away. Most riding areas dedicate one night each week for night riding where the park is open for longer. This is a great way to meet new and like-minded people. Most bike parks will also offer rental mountain bike headlights so that riders can try them before they buy.
Even the best of us can feel tempted to stay at home when it's cold and dark. Having riding buddies to team up with can help get you out the door. Night riding is so much more than just hitting the trails, the comradery of sharing a barbecue after a night ride becomes the highlight for many people.
Not only does teaming up with others make night riding more enjoyable, but it also makes it safer. Should the worst happen and someone has an accident, light failure, or mechanical, you've got company to help deal with the consequences.
TIP FIVE: BE PREPARED AT ALL TIMES
If you're not well prepared, night riding can leave you in some tricky situations. Just imagine, you're out on a cold and dark winter night and your battery runs out in the middle of a forest, it could be a long wait before you get help. This is one of the reasons why we suggest riding with two rechargeable bicycle lights.
As you become more experienced, you'll better understand your mountain bike headlights and how best to operate them. For example, it's good practice to conserve battery power to ensure you have enough light to get home. You can do this by powering down or turning off a light whilst you are climbing. Maximum brightness is only required for technical or fast descends.
Whenever you venture out into the wilderness it's always a good idea to let someone know where you're going and when you'll be back. In addition, you can't look past the benefit of having both a personal location beacon and a fully-charged cellphone with you.
GET READY TO BE ADDICTED TO NIGHT RIDING
So there you have it, our top five tips for starting out in night riding. Mountain biking at night is definitely not for the faint-hearted, if you are already a seasoned mountain biker, then we hope this blog has encouraged you to take it to the next level.
We created Gloworm lights to make night riding easily accessible for everyone, the most important thing is that you're safe, and we're proud to say that we've lit the way for many riders.
If you have any questions about night riding or our Gloworm lights, reach out to us at [email protected].